Johann Grobler
& Associates
A T T O R N E Y S , C O N V E Y A N C E R & N O T AR Y
P R O K U R E U R S , A K T E B E S O R G E R &
N O T A R I S
THE BEST ESSENTIAL LEGAL GUIDE FOR PASTORS AND CHURCH LEADERS IN SOUTH AFRICA
There is no other book on this topic.
Every church leader and pastor in SA should have his/her own copy.
More than 180 pages …
Helping you to avoid the legal snares of church leadership…
Covering 22 areas of church life…
Giving practical guidelines and examples…
Referring to case law…
Some of the questions dealt with:
The author, Johann Grobler, is a practising attorney since 1978 and holds a Master's degree in theology.
See the attachments for the full contents and an excerpt from the book.
Price: R180.00 (excluding postage or delivery charges). Digital format (pdf) : R90.00
Discount of 15% if 20 copies or more are ordered at once.
Write to: admin@jglaw.co.za or jgrobler@pop.co.za or phone 011 664-8812 during office hours.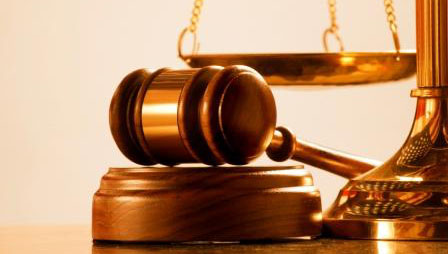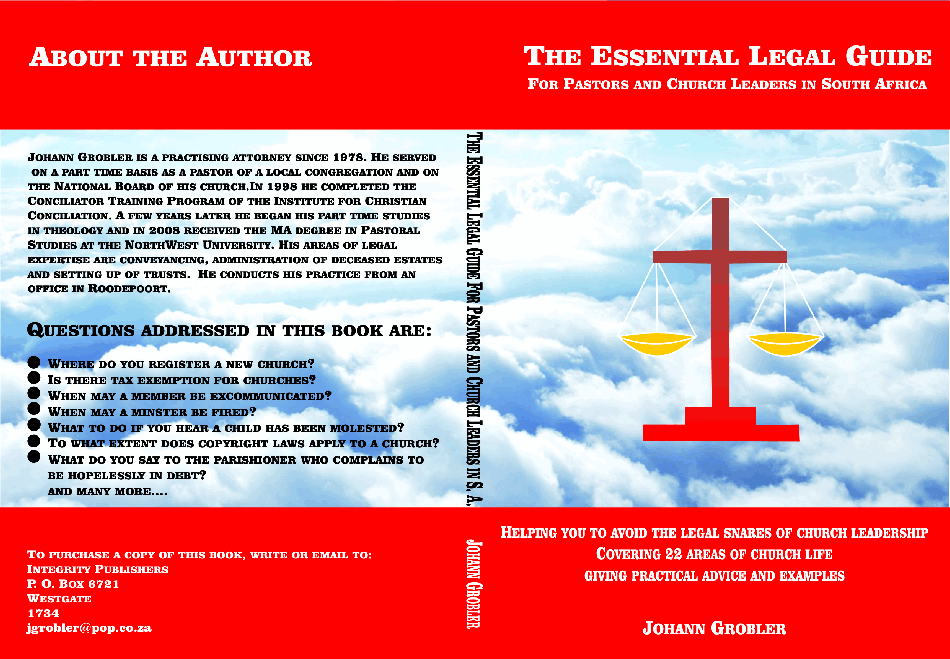 Book Contents
1. Constitutions and registration of churches 12
-- "Where do we register the new church we
have started?"
2. Income tax exemption 22
-- "Is there tax exemption for churches?"
-- "Can tithes be deducted for income tax purposes?
3. Nonprofit Organisations 29
-- "Should our church register as an NPO?"
4. Donations and tithes -- the legal implications 33
-- "Pastor, I want my money back."
5. Testamentary issues 35
-- "Pastor, I want to bequeath everything
to the church. "
6. When a brother or sister dies -- the legal duties 39
-- "Where do we report his death?"
-- "Pastor, the family disagrees about funeral
Arrangements!"
7. Church property and buildings 45
--"The church wants to buy this property
– what now?"
8. Breach of confidentiality and duty to disclose 49
-- "Pastor, we want you to testify about
that confession he made to you."
9. Counselling and legal issues 58
-- "Pastor, your wrong advice cost me R50 000!"
10. Church activities and potential legal liability 61
-- "My son's accident at the church youth
camp put me back R50 000."
11. Basics of the law of contract 65
-- "Pastor, you signed -- you are liable!"
12. The church and labour law 68
-- "Surely ministers are not employees - are they?"
13. Disciplinary matters 82
-- "They can't just excommunicate me!"
14. Alternative dispute resolution 90
-- "If I'm not supposed to sue, what alternative
is there?"
15. Christian mediation and arbitration 96
-- "How does Christian mediation differ
from secular mediation?"
16. Wedding bells and marriage officers 103
-- "Who may act as marriage officers?"
17. The law of divorce 112
-- "Pastor, I want to sue for divorce."
- "Pastor, she wants to take the kids out of
Sunday school!"
18. Domestic violence 127
-- "Pastor, my husband locked me and the kids out!"
19. What to say to the parishioner in debt 132
-- "Pastor, please help, my creditors want
to sue me! "
20. Helping the Helpless 138
-- "Pastor, my son is a drug addict!"
-- "Pastor, my husband is an alcoholic!'
-- "Pastor, my elderly mom is not all there and she's being
exploited by family members!"
--"Pastor, is mercy-killing OK?"
--"Pastor, my 16 year old daughter wants an abortion!"
-- "Pastor, they caught my 18 year old son shoplifting!"
21. Copyright issues 145
-- "Pastor, churches don't have to worry about
copyright, do they?"
-- "Pastor, let's invite the community to our movie nights."
22. What you should know about human rights 152
-- "What rights can we Christians claim?"
--" Pastor, the camp leader may spank my child if
he is rebellious."
Appendix 1 : The Bill of Rights 160
Appendix 2 : List of Regional Offices of Legal Aid
Justice Centres 172
Appendix 3: List of Public Benefit Activities for 173
Income tax exemption.
Appendix 4: List of Public Benefit Activities for 178
Income tax deduction for donors.
Appendix 5: A lawyer's perspective on the Law 184
Of Moses.